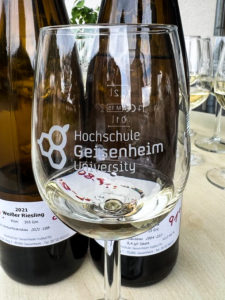 From 9 to 10 May, I was invited to the International Riesling Symposium organised every three years by the Geisenheim Wine University in Germany. Bringing together winemakers, researchers, journalists, sommeliers and buyers from the major Riesling-producing countries, the symposium aimed to highlight the repercussions of global warming on Riesling production, as well as the innovations that allow us to adapt to it.
Through four conferences accompanied by tastings of great Rieslings, but also through the visit of the collection of more than 1200 vines of the grape variety, we tried to understand the numerous challenges that Riesling is facing today.
I am always proud to visit this collection, as nine vines come from a parcel of Moenchberg Grand Cru planted by my father André in 1959 after he had made a massal selection, i.e. after having chosen the grafts by cutting a shoot from the most beautiful vines!
During the tasting following the conference on the marketing prospects of the Great Rieslings, our Kastelberg Grand Cru Riesling Vieilles Vignes 2005 was tasted. According to wine expert Pascal Dautel, this wine has a beautiful nose, with ripe fruit, a hint of butter and a nice body. It is a fine, tasty, full-bodied wine with good youthfulness. A subtle touch of sweetness can be felt thanks to the ripe apple and biscuit notes. But there is also a fine mineral salinity, which is perfectly integrated to achieve the expected balance, as well as a complex and persistent verticality.