Last Sunday, Riesling celebrated its 587th anniversary, 13th March 1435 being the first mention of the grape variety in the records of the county Katzenelnbogen located in the Rhine Valley!
If like us, you missed the opportunity to raise a glass in its honor, we have the solution for you: taste a Riesling Grand Cru Wiebelsberg Vieilles Vignes 2003!
But before opening the bottle, let us explain its particularities.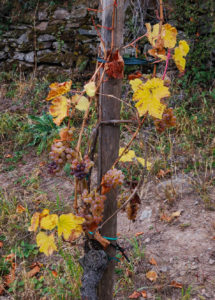 The first is that old vines are less vigorous and their berries are smaller. Thus, the surface of berries per volume is more important, and as the aromatic potential is in the skin, the one of the grapes coming from old vines is much more important. As a result, the wine has a floral nose of great finesse, powerful aromas of peach, lemon or white flower and a superb persistence in the mouth.
This wine is also characterized by a purer and more important mineral expression, thanks to the deeper root development of the old vines, which implies a better extraction of mineral salts from the soil.
Finally, we harvest the old vines last, which allows us to have already some botrytised berries, giving a touch of candied fruits on the nose and a touch of sweetness on the palate, which makes this wine perfect for foie gras, duck, blue cheeses or fish with fatty flesh.
So, are you convinced?